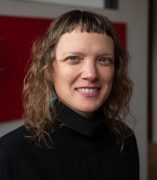 Beth Gutelius
Research Director, Center for Urban Economic Development
Pronouns: She/Her/Hers
About
Beth Gutelius, Ph.D., is the Research Director of the Center for Urban Economic Development and a senior researcher at the Great Cities Institute. Her academic and consulting career centers on urban economic development and the changing nature of employment, with a focus on the evolution of the warehousing and distribution sector.
Dr. Gutelius has published work in leading academic journals, and is frequently contacted for media inquiries by preeminent news outlets, including The New York Times and The Wall Street Journal.
As an advisor and research consultant to philanthropic organizations, Beth has worked with the MacArthur Foundation, Ford Foundation, Irvine Foundation, Solidago Foundation, and the Neighborhood Funders Group, along with many non-profits.