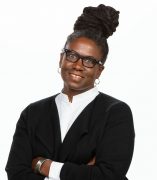 Stacey Sutton
Associate Professor, Urban Planning and Policy
Contact
Building & Room:
240 CUPPA Hall, MC 348
Address:
412 S Peoria St., Suite 240
Office Phone:
Email:
About
Stacey Sutton, Assistant Professor of Urban Planning and Policy in the College of Urban Planning and Public Affairs (CUPPA) at the University of Illinois Chicago. Her research focuses on worker cooperatives, economic democracy, equitable development, and racially disparate effects of place-based policy and planning. In a forthcoming study, titled "Cooperative Cities," Stacey examines how municipal leaders are creating enabling environments for starting and sustaining worker-owned cooperatives and limitations of the local state in the cooperative movement. Other bodies of work focus on "Punitive Cities," meaning the disparate impact of urban policies and place-based initiatives. This includes examining the impact of business improvement districts (BIDs) for small businesses in NYC and the impact of red light and speeding camera tickets on drivers across Chicago. Finally, Stacey examines interplay among race, gentrification and neighborhood change. This is reflected in an article on gentrification and racial transition in the Journal of Urban Affairs. It is also the premise of her book project titled, Buy Black: Race, Retail and the Politics of Neighborhood Business Survival, that examines neighborhood change through the lens of Black small business-owners. Stacey tells how business-owners were instrumental for revitalizing a Brooklyn neighborhood and how processes of gentrification, including the enactment and enforcement of land-use rules, building codes and other regulatory apparatus, hasten shop closure and upend community cohesion. Sutton holds a joint PhD in Urban Planning and Sociology from Rutgers University, and a MBA from New York University.